Nearly 4 million unborn lives saved and we need to keep going….
Lets Save the Strays International
Who We Are
Lets Save The Strays International, LLC is a 501C3 organization dedicated to promoting and teaching people about animal welfare and population control in the most underserved locations across the globe. We go where others do not.
Our Mission
Our mission is to support the humane treatment of animals and inspire communities to treat them with respect through community involvement and TNVR (trap neuter vaccinate release) We are a 100% volunteer and private donation based organization working with veterinarians and their teams to perform TNVR and needed medical care on animals living on the streets as strays.
The Why
Because all over the world, dogs, especially, are facing unbelievable neglect, starvation and are not able to access even the most basic level of humane care. This is not because it is not wanted, it is because most of the countries we work with have no resources, no government funding, no chance of offering a better life for these sweet souls. We take on the worst cases of animal neglect and suffering because they deserve better.
In just six years, one unspayed cat or dog and her offspring can produce 67,000 kittens or puppies.
Hello Friends,
Some of you reading this will already know about me and our newly founded organization. But for those of you who do not know my story and why I founded Lets Save The Strays International, let me tell you.
As a veterinarian and whose parents are of mixed nationality, US and India, my love for Asia and her animals in need has always been close to my heart. I promised myself that someday I would dedicate my life full time to trying to better the lives of animals in need on a more global scale. India has been my inspiration for wanting to do more TNVR as I do believe it is the single most effective way to better the lives of street dogs.
Sadly, animals living on the streets in poorer areas of the US and other nations suffer the most. India has embraced very successfully the TNVR process, and with this knowledge in hand, I wanted to bring it to other areas where the need was greatest. I was fortunate to learn about it hands on with Welfare For Stray Dogs, a private non profit in Mumbai, India. After selling my 24/7 speciality veterinary practice in Boston, I started volunteering at Elephant Nature Park, in Chiang Mai, Thailand. They introduced me to Myanmar and the ever growing need for better care for their street animals. They also introduced me to the Parker Project, located in the 4 Corners area of the US, where we hope to be more involved in the future. I started working with Big Little Life Animal Rescue, in the US, and that's where the project in Tula, Russia was born.
Now we manage and sponsor projects all over the world, thanks to so many inspiring and hardworking people who also believe in this mission. Change starts always with one person, one idea. Together with wonderful people like you, this can grow to better our world, one precious innocent soul at a time.
For the animals,
Amy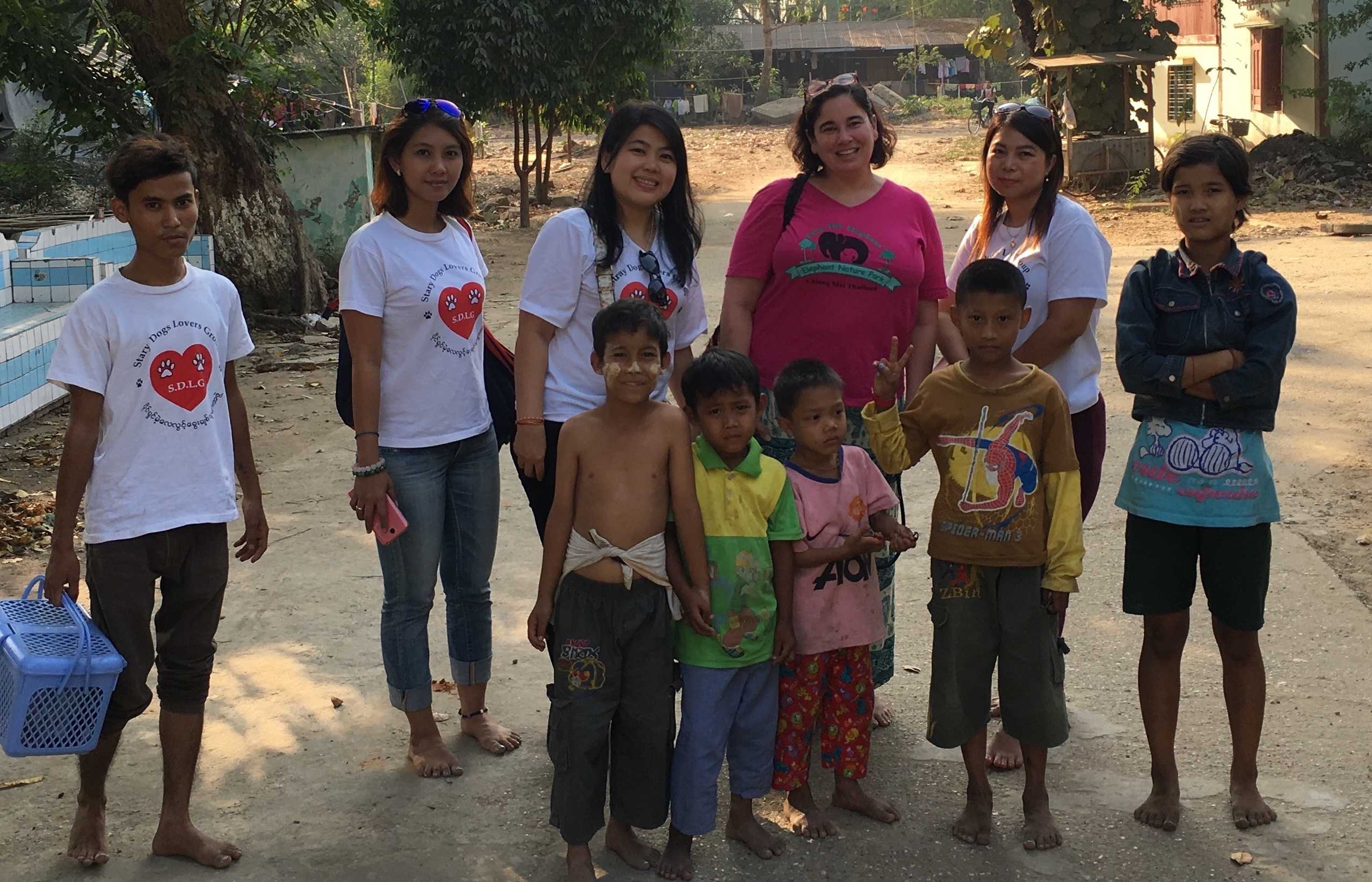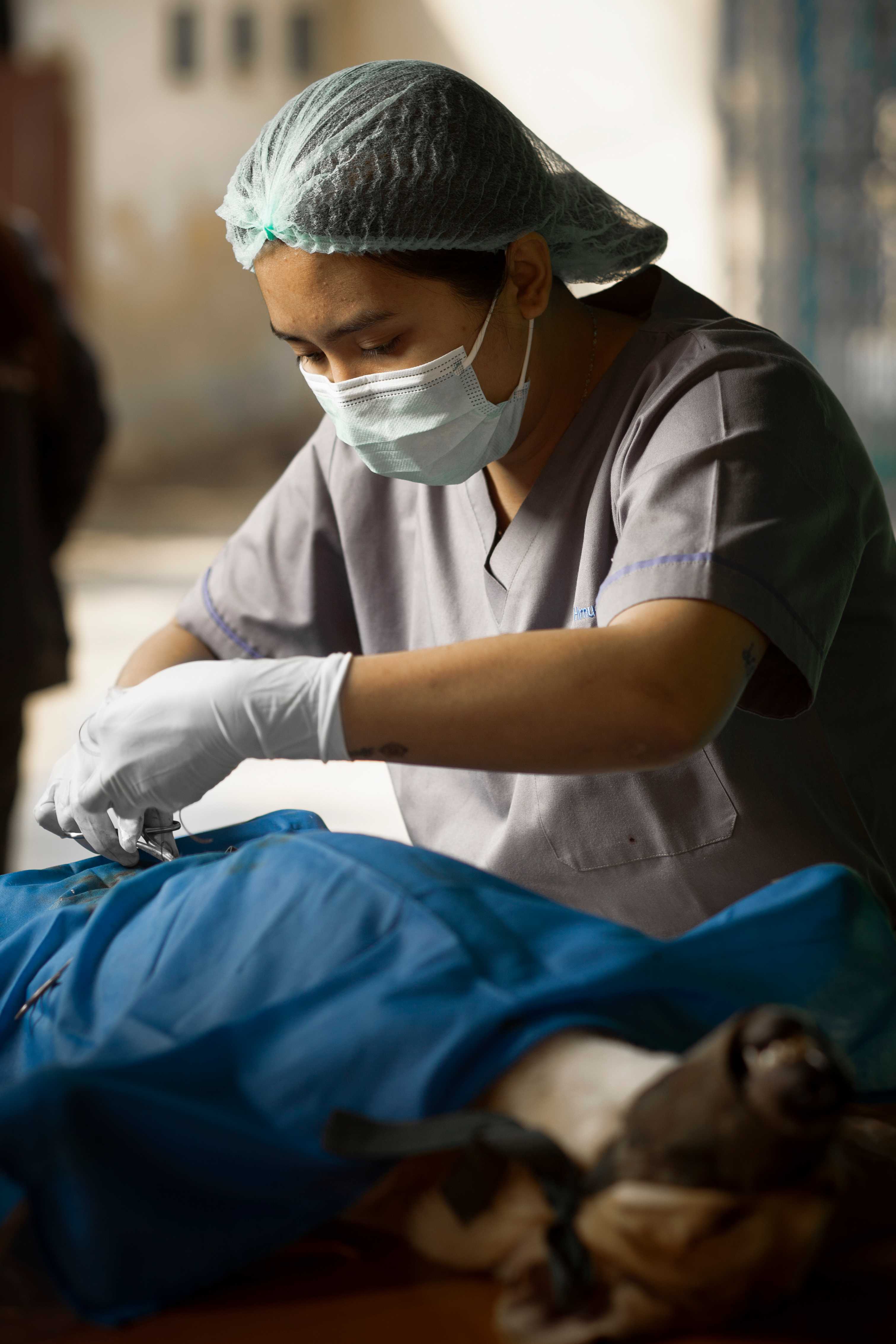 What is TNVR?
TNVR. Save Lives. Repeat
TNVR stands for Trap Neuter Vaccinate Release. It is also known as CNVR – Capture Neuter Vaccinate Release.
Dogs on the streets in most countries are there because they were born from other strays who have been dumped, or abandoned to live on the streets. They suffer from all types of abuse and in the nations were work in, they end up poisoned with strychnine, hit by cars, beaten, die of diseases like parvo, distemper, mange, internal parasites, starvation or being chased away as pests by people who do not want them nearby.
One dog will give birth to up to 12 puppies every 3.5 months, starving to feed herself and her pups. This cycle happens over and over.
There are millions of strays who live this way with no one championing their welfare.
We Give Them a Voice
By neutering or sterilizing, vaccinating for rabies and deworming, we stop so many diseases so that they can live a healthy life, and be better able to manage the stresses of street life. Dogs who live on the streets help to protect people's homes, eat restaurant leftovers, catch rodents, and can live good lives if healthy.
There is no evidence that removal of dogs alone has ever had a significant impact on dog population densities or the spread of rabies.
What We Do
TNVR is a one health initiative
Connecting human and animal health
We want to empower local communities to engage in solving their own stray dog issues, whether it be human animal conflict or the growing rabies epidemic that exists in many poorer countries.
By enlisting and training local veterinarians on how to perform the surgical procedures needed to sterilize, we are also teaching them that TNVR is the most sustainable solution to their stray dog overpopulation while stopping the spread of rabies at the same time.
We teach various teams on the ground how to safely catch, perform anesthesia and sterile techniques to ensure the best outcome for each animal. Local communities who enlist our help to do TNVR are the ones who feed and manage them after the surgery is complete and report to us if there are any issues. If we can neuter and vaccinate at least 75% of the dog population, we can see a huge decrease in the numbers of animals in a 2-5 year period.
The result is a community-owned program that cultivates empowered participants and humane, sustainable change that benefits people and the animals alike – One Health.
Where We Work
Our

Projects
---
Click on a location to learn more
Featured

Fundraiser
LSTSI Together with the MVMA and K9 Global Rescue Brings Aid to Ukraine
Animals are the link that binds all of us who love and care for them. Whether its wildlife or our own pets- all of us who have a pet or know others who do can feel the heartbreak of what is happening…
Donate
From Our Blog
Recent

News & Updates
---
How to Help
Get

Involved
---
Give Money
Give what you can when you can where you can!
Donate
Get Involved
There are other ways to support LSTSI!
Fundraisers